Glen James handed a backpack with $42,000 inside to police after he found it outside a mall. Photo: APTN
More than $122,000 (£76,030) has been raised for a homeless man who handed a backpack stuffed with cash to police after finding it outside a shopping mall in Boston.
Glen James was heralded a "homeless hero" by the media after Boston Police Commissioner Ed Davis lauded him for handing in the bag, which contained $42,000 (£26,175).
Mr James, who cannot work because of an inner-ear condition that affects his balance, said: "Even if I were desperate for money, I would not have kept even a penny of the money I found.
"I am extremely religious - God has always very well looked after me."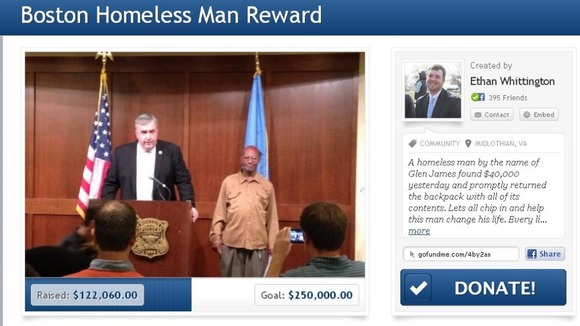 His honesty led a man in Virginia to
set up a fund on a crowd-funding website
to help him "change his life."
"I just found James' story to be inspiring," Ethan Whittington said. "We're so inundated with negative news all the time. James gives hope to people and lets them know not all things in the world are bad."
As the total hit $100,000, Mr Whittington wrote on the fundraising page:
$100k.... WOW! Thats all I...$100k.... WOW! Thats all I can say...You guys have been absolutely amazing!
Its crazy to see what people can do when they come together to achieve one goal. Imagine the possibilities! Lets spread the kindness that Glen has sparked in all of us and change the world together :-)
THANKS GLEN!