Looking for purpose and meaning in the profession? Three designers tell their stories of finding joy and inspiration by helping others.
Many people pursue architecture with the intention to enter the nonprofit sector and help those who need it most. But then something detracts them, whether it be student loans or a promising job offer—fair enough. For those who still hear the call to action, opportunities with a number of nonprofit and humanitarian organizations worldwide are abundant. And the experience will likely benefit them as much as it does the beneficiaries of their work. Below, three individuals who have embarked on the path of public interest design—Jesús Porras Montesino, Carly Althoff, and Catherine Callaway, AIA—describe the moment they realized the full impact of their service.
This is the first of a three-part series compiling the personal journeys of architects and aspiring architects.
Jesús Porras Montesino
After studying architecture in Spain, I joined
Architects Without Borders
in Australia, which sent me to India to help build schools in the slums of Ahmedabad. I remember the
Patangyu (Butterfly) School
most fondly. The students were coming from a slum that had recently been removed so their families had been evicted or were sleeping in the streets until their houses were rebuilt.
We had only the resources around us for construction. The kids, ages 3 to 16, gathered rocks for the school's gabion walls, made from coiled wire cages. For the roof, we wove a bamboo lattice, similar to the mats they use for sleeping, and then draped an old, plastic billboard over it for waterproofing. The women in the community helped us mix the flooring from cow dung, water, and straw, a common technique in villages there. It's nice to walk on with bare feet. All in all, the materials probably totaled about $3,200 and the school took about six months to build.
During construction, to celebrate the completion of the school walls, we decided to hold a special movie night for the students. The kids got to the site early and, while waiting, swept the ground clean, created a theater by outlining a space on the floor with rocks, and hung up a white sheet as a screen. It was touching to see what they had created from nothing and how much they cared.
My initial assignment was three months, max—I ended up staying in India for two-and-a-half years. Since I've left, the school's teacher has kept me updated on its progress. The kids have added a garden, built benches, and painted walls. It's wonderful to watch their confidence grow as they take ownership of the school.
From that moment on, I discovered that I wanted to design and build with communities living in harsh conditions, for which architecture school did not prepare me. Now, I am more sensitive to context. I'm less interested in aesthetics and more interested in ensuring every square centimeter in a building will be useful; whether the materials are locally available; and how much we are empowering the community. The people in the slums are amazing, but they often underestimate their own worth and goods. I like to help bring everyone's skills to the dable to find interesting solutions for each challenge.
Jesús Porras Montesino is currently helping to build schools in the slums of Kibera, Nairobi, Kenya, with a non-profit design firm Kounkuey Design Initiative. He worked in India with Architects Without Borders and the NGO Manav Sadhna from 2009 to 2012, and for Architecture for Humanity in Peru in 2013. (Expect a story about Montesino's work in Peru soon.)
Carly Althoff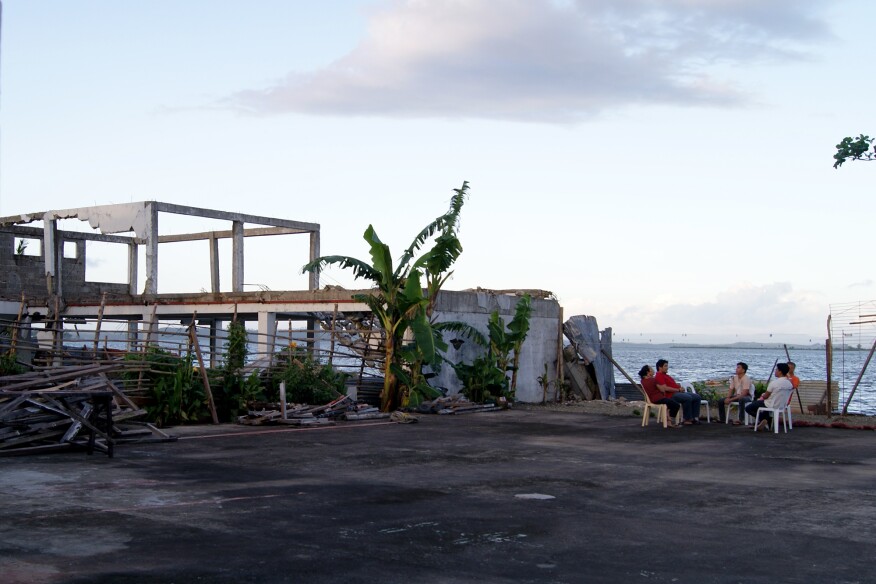 Mission to the World
, the missionary-sending organization for the Presbyterian Church in America, needed an architectural designer for a church community center in Tacloban, Philippines, and reached out to
Journeyman International
(JI). As a fifth-year architecture student at Cal Poly, I was tasked with producing a vision that JI could bring to life with the help of
In January 2015, I spent a week in the Philippines to meet the community and to see the site, which had been devastated by Typhoon Yolanda in November 2013. My design mentor, Maddie Pfeffer from
BAR Architects
in San Francisco, and I were warmly welcomed by pastor Zuriel Bernardino and local families. After dinner one night in Tacloban, a group of us gathered in a circle under the stars. A few local men began talking about the day of the storm. Another pastor, Tim Sia, described how his family raced to the upper floor of the existing building on the site as floodwaters topping 20 feet rushed in. He and his family had to stand on furniture and hold onto each other tightly to not be washed away. After the waters receded, it took a couple months for goods and supplies to come in from other countries so residents had to salvage what belongings they could from the rubble.
These men shared their heart-wrenching stories with dignity and optimism. They knew their physical home was only temporary, and that finding refuge as a family and community was more important. Despite several setbacks, the
Heroes Church at Liferock Center
is now complete and provides a place for 30 to 50 people to gather in fellowship and for shelter.
Personally, my faith has grown exponentially, as has my gratitude for the opportunities I've been given. Professionally, I have new appreciation for designers in third-world countries and areas frequently affected by natural disasters. I am inspired to use my talents to help people and leave this world a better place.